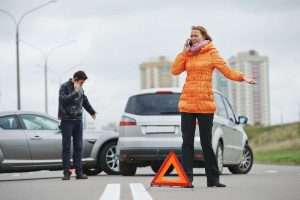 Over three million people in the United States are injured every year in car accidents. For every two out of three people, the impact is permanent, leaving them with life-long symptoms as a consequence of the accident. If you are involved in a motor vehicle accident, there are measures you can take to protect yourself and your interests. Below is a list of what you should do if you are involved in a car accident.
1. Stop and Check Your Surroundings
Stay at the scene of the accident, even if the incident is minor. Leaving the scene of a collision risks a citation or arrest for a hit-and-run. Remember to turn your hazard lights on, put the car in park, and turn the ignition off. Keeping your hazard lights on will prevent further accidents by notifying other drivers of your stopped vehicle. Thoroughly check yourself and any passengers for injuries. Do not exit your vehicle unless you are away from traffic and have deemed your surrounding area safe.
2. Contact Emergency ServiceS
Call 911. Do not assume that someone has already called for help as it can delay the arrival of first responders. Regardless of the severity of the incident, it is always a good idea to contact the police. Oftentimes police reports are requested by insurance companies, even if you are just filing a claim for damage to your vehicle. Do not move your vehicle from the scene of the accident before emergency services arrive unless it obstructs the flow of traffic.
3. Document the Accident
If you have access to a camera or phone camera in your vehicle, take pictures of any visible damage done to the vehicles on the scene of the incident. Take pictures of any visible injuries that occurred as a result of the accident. If you are unable to take any pictures at the scene of the incident, make sure to take them as soon as possible. It is also important to write down notes about what details you remember from the incident, including events that occurred leading up to the collision. Spending the time to write down notes will assist you later when creating a detailed accident report for your insurance company.
4. Exchange Information
It is important to obtain the names, telephone numbers, and addresses of all parties involved in the accident. You should also collect the information from the insurance cards for all vehicles that collided. If any witnesses are on the scene of the accident, collect their contact information so your attorney can communicate with them at a later time. Police who respond to the accident are responsible for providing all drivers with a police report number, which can be used later to obtain the police report.
5. Notify your Insurance Company
It is crucial to report the accident to your insurance company as soon as possible. Many policies require your immediate disclosure and complete cooperation, and failing to do so can result in consequences pertaining to the damages associated with the collision. It is important to have your policy number and details about the accident available when you make the call. After speaking to an agent, you can expect to be contacted by an adjuster who will assess the damages sustained to your car as a result of the incident.
6. Get Medical Help
Unless unquestionably certain that you were not injured, it is critical to seek medical attention from your primary care physician or an emergency room. Even accidents involving a minor impact can sustain injuries to your body that are serious and permanent. Physical injuries as a result of an automobile accident are not immediately evident, and pain is most commonly reported 1-2 days post-incident. Visiting a medical professional is not only beneficial for receiving treatment, but it is also important to collect documentation that any injuries are connected to the collision.
7. Keep a Record
Issues stemming from accidents can arise years after the collision occurs. Be sure to keep any incident-related documents and information together. Information should include a claim number, the adjuster handling the claim, names and phone numbers of all relevant contacts, and receipts for costs incurred as a result of the incident. It is also important to preserve a record of any photographs taken at the scene of the incident that show damages and injuries.
8. Know Your Rights
The most important thing you should do after an accident is consult your attorney. Your attorney will ensure your rights are protected and that any valuable evidence is preserved. It is also important to receive legal advice before providing a statement to your insurance company. Your attorney is equipped to advise you on issues ranging from compensation for damages to making sure you are receiving proper medical treatment. If you need legal representation for an automobile accident, please contact our team today to discuss your case.