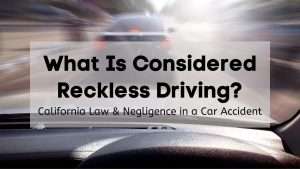 When someone drives recklessly or carelessly, they knowingly endanger the lives of everyone around them. Aggressive or reckless driving was a factor in 56% of fatal crashes between 2003 and 2007, according to the NHTSA. Speeding alone is a factor in about two-thirds of all traffic fatalities.
In 2021, traffic deaths across the U.S. soared to a 15-year high and the NHTSA pointed to an increase in reckless driving as the cause. Sadly, California has more dangerous drivers than any other state according to one study. Speeding alone, the most common form of reckless driving, kills almost 9,500 people per year, but many more are left with serious injuries after being hit by a careless or reckless driver.
Have you been hurt in an accident caused by someone driving recklessly? Reckless driving in California is a crime that can carry criminal penalties unless a simple traffic infraction. Proving recklessness can also have an impact on your personal injury case.
What Is Reckless Driving?
There are many terms used to describe dangerous driving practices. As a traffic violation, states may refer to it as aggressive driving, dangerous driving, careless driving, or reckless driving. The reckless driving definition also varies by state.
As a general rule, what constitutes reckless driving includes behaviors that are unsafe and endanger lives or property.
Aggressive vs Reckless Driving
The difference between aggressive driving vs reckless driving is the aggressive driving definition usually involves intent. Someone may be driving aggressively if their intent is to intimidate, harass, obstruct, or injure other drivers.
The legal definition of aggressive driving is based on each state's traffic code. Some states do not make a distinction between different forms of unsafe driving behavior.
According to the NHTSA, aggressive driving is a "combination of moving traffic offenses that endanger the lives of person or property."
Negligent vs Reckless Driving
It's also important to understand the difference between negligent and reckless driving. Bad driving does not always rise to the level of recklessness.
The negligent driving definition is failing to exercise reasonable care while driving to avoid harm to others.
Under the California reckless driving law, simply failing to exercise reasonable caution is not enough to be considered reckless. The law requires that the driver's behavior was done with "willful or wanton disregard for the safety of others." That means a driver is not just negligent but also reckless if they realized their behavior posed a high risk to others and did it anyway.
Reckless Driving Examples
There are many ways in which someone can drive recklessly. Here are common examples of reckless driving:
Excessive speeding
Driving too fast for the road conditions
Improper or unsafe passing such as passing on a curve or grade, at a railroad crossing, or passing a stopped school bus
Driving with an obstructed view
Failing to use proper turn signals
Failing to yield the right of way
Tailgating
Driving outside traffic lanes or on the wrong side of the road
Weaving in and out of traffic
Ignoring stop signs or traffic signals
Brake checking
Flashing high beams or headlights
Blocking other vehicles attempting to change lanes or pass
Drowsy driving
Racing
Some forms of distracted driving such as applying makeup or texting while driving can be considered reckless
Driving under the influence of alcohol or drugs
In California, reckless driving may be called as "dry" or "wet." A "wet reckless" is a common plea bargain in which a DUI charge is reduced to reckless driving with lesser penalties. A "wet" reckless conviction involving alcohol is still considered a "prior DUI" on the person's criminal record.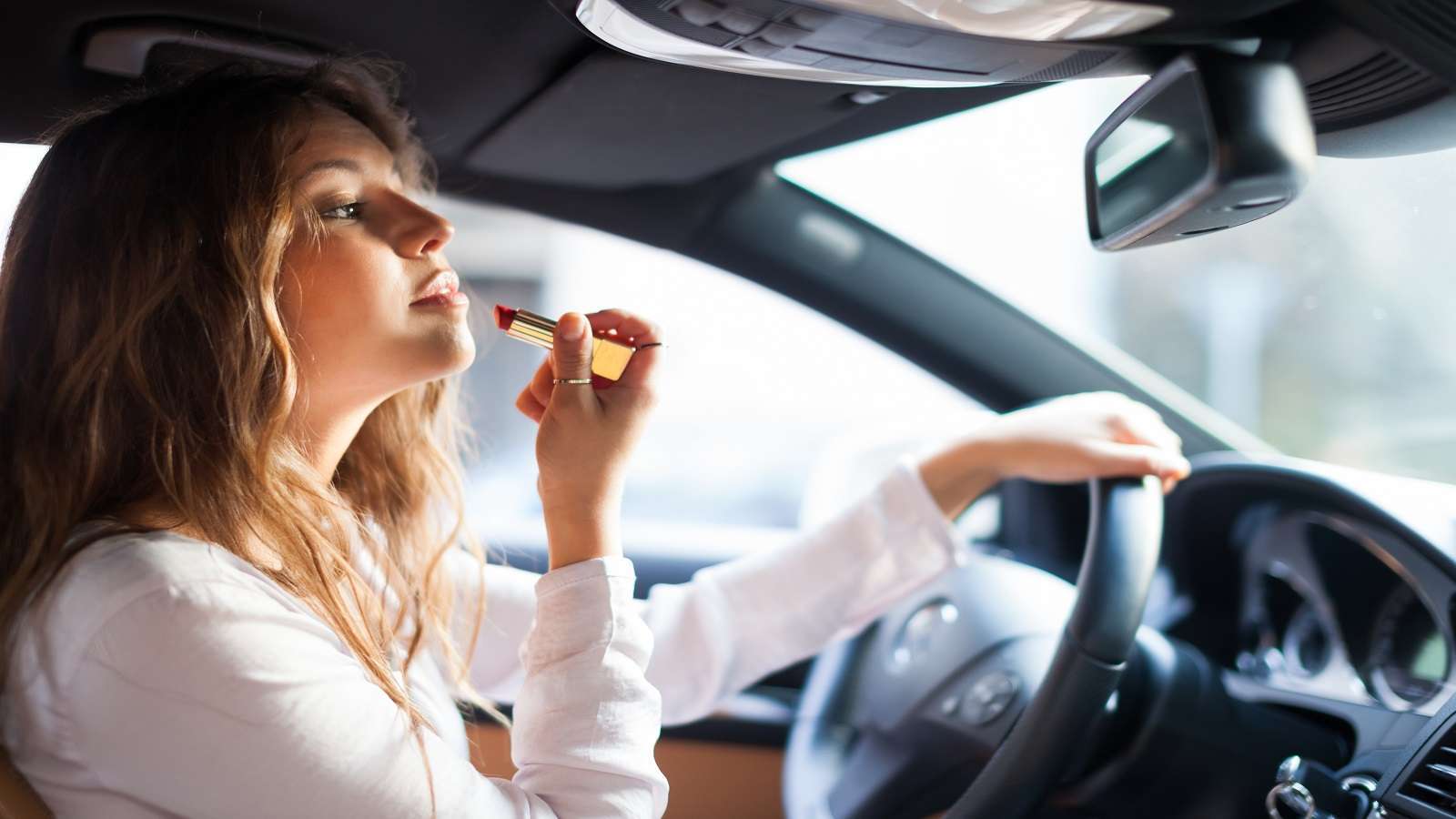 Reckless Driving & California Law
What is reckless driving in California? Under California law, there is no distinction between aggressive and reckless driving. Any driving behavior that displays an intentional disregard for the safety of others, or that a reasonable person would assume or know is dangerous, can be considered reckless.
Reckless driving in California is more than a traffic infraction; it's a misdemeanor offense. This means it comes with serious criminal penalties if the driver is charged and convicted. Speeding and tailgating, on the other hand, are infractions punishable by fines.
Reckless Driving California Vehicle Code 23103 VC
The definition of reckless driving under 23103 VC is driving "in willful or wanton disregard for the safety of persons or property."
The reckless driving CVC definition can be confusing. Someone acts with "wanton disregard for safety" when they:
Are aware that their behavior poses a substantial, unjustifiable risk of harm, and
Intentionally ignore this risk
That means someone can be guilty of reckless driving even if they do not intend to cause injury if they knowingly drive in a way that is dangerous.
Reckless Driving Causing Injury – 23104 VC & 23105 VC
When reckless driving causes injury, the driver at fault can be charged with one of two related offenses:
23104 VC – Reckless Driving Causing Injury, or
23105 VC – Reckless Driving Causing Serious Injury
California law defines "serious injury" under this statute as any of the following:
Concussion
Brain injury
Loss of consciousness
Fracture
Wound that requires "extensive suturing"
Protracted loss or impairment of function of an organ or bodily member
Serious disfigurement
Paralysis
California Reckless Driving Is a Crime
Reckless driving is a misdemeanor in California. Someone convicted of reckless driving can face penalties such as:
5 to 90 days in jail
2 points on their driver's license
Fine of $145 to $1,000
6-month license suspension
A reckless driver who causes injury in an accident will face harsher penalties. With minor injury to someone else, the reckless driver would face 30 days to 1 year in jail. Reckless driving that causes serious injury is a wobbler offense. This means the prosecutor may charge it as a misdemeanor or felony.
If charged as a felony, California reckless driving is punishable by up to 3 years in prison, a fine up to $10,000, and car impoundment.
Speeding vs Reckless Driving | How Much Over the Speed Limit Is Considered Reckless Driving?
What speed is reckless driving? It may surprise you to learn that any speed can be considered reckless – even driving under the speed limit!
It's a common misconception that there is a certain amount over the speed limit that triggers reckless driving in California. You may even see sources telling you driving 25mph over the limit, double the limit, or more than 100mph is automatically reckless driving. The truth is more complicated.
Speeding and reckless driving are completely separate and not tied together by California Vehicle Code. Speeding is always a traffic infraction, never a misdemeanor or felony – although it can lead to criminal charges. Reckless driving does not need to involve speeding at all, but speeding is one of the most common forms of reckless driving.
Speeding alone is not enough to constitute reckless driving in California
When does speeding become reckless driving? That can be hard to answer. California courts have held that speeding can be considered reckless driving after considering the time, place, conditions, and specific circumstances.
No matter how fast a driver is going, the violation is always a speeding infraction, although penalties depend on the speed. For instance, the base California speeding ticket for exceeding the safe speed or limit by 1 to 15 mph is $35 which increases to $100 for 26 mph or more. There are enhanced penalties for going more than 100 mph including license suspension, but it's still just an infraction.
It's up to law enforcement to decide if speeding constitutes reckless driving based on not only the speed but circumstances and conditions.
A driver can get a speeding ticket and be charged with reckless driving at the same time. Likewise, you can be charged with reckless driving and DUI.
Here are some hypothetical scenarios that help demonstrate when speeding might result in a ticket and when it might lead to reckless driving charges.
Driving the speed limit can be considered speeding if road conditions are dangerous. The circumstances can even make it reckless driving – was the driver also texting while driving? Were they weaving in and out of traffic or tailgating?
Driving 25 mph over the speed limit can constitute dangerous driving. Was the driver trying to cut off another motorist? Were they weaving in and out of lanes in traffic? Or were they speeding on an empty street? In the latter case, reckless driving may not be likely if the behavior wasn't knowingly and wantonly disregarding the safety of other motorists or property.
Hit by a Speeding or Reckless Driver? | How Reckless Driving Affects Your Personal Injury Case
A personal injury case requires proving the other party was negligent to recover compensation for your damages. This means proving:
The defendant owed you a duty of care,
This duty of care was breached, and
The breach of duty was responsible for your injuries.
As a general definition, someone is considered negligent under California law if they perform or fail to perform actions a reasonable person would do or not do in the circumstances. The burden is on the plaintiff to prove that it was more likely than not that the defendant was negligent – with some exceptions.
If you were injured in an accident by a driver who was speeding or driving recklessly or carelessly, the burden may be shifted to the defendant to prove they were not negligent.
Negligence per se is an important legal doctrine that states that when someone violates a statute designed to protect the public from a specific harm, they are presumed to have acted negligently when someone is hurt.
Proving negligence per se is easier than proving standard negligence. As the injured victim, you do not need to prove the at-fault party's behavior fell below a standard duty of care and was the proximate or actual cause of your injuries – you only need to show that they violated a safety statute and caused the harm to you that the statute was designed to prevent.
Negligence per se is rebuttable, but it's very hard for a defendant to prove they were not negligent if you can show they violated a safety statute and caused your accident.
If the at-fault party received a speeding ticket or other citation for violating a safety statute related to your accident, it can be used as evidence of negligence per se. The same is true of a reckless driving charge.
Even if the other driver was not cited or charged for their behavior, other evidence may be submitted to show they violated a safety statute like speeding, reckless driving, or driving under the influence like dash cam or traffic cam footage.
Proving recklessness in your case may even allow you to recover punitive damages. This is compensation you can recover beyond your financial and non-economic losses to punish the defendant and set an example for wrongdoing.
California law allows plaintiffs to receive punitive damages if there is "clear and convincing evidence" the defendant is guilty of any of the following:
Oppression,
Fraud, or
Malice
Malice is defined as behavior that is "intended by the victim to cause injury" (or intentional tort) or "despicable conduct" done with a "willful and conscious disregard for the rights and safety of others" (or non-intentional tort). This requires showing the other driver was aware of the likely and dangerous consequences of their behavior and with this awareness willfully continued with their behavior.
Oppression is defined as "despicable conduct that subjects a person to cruel and unjust hardship in conscious disregard of that person's rights."
To prove malice, you must show a willful and conscious disregard. Proving oppression does not require that the behavior was willful.
The California Supreme Court has held that punitive damages can be awarded as long as the plaintiff shows the defendant was aware their behavior carried a high risk of harm and disregarded the safety of others. This is very close to the definition of reckless driving.
If the at-fault driver was convicted of a reckless driving charge, it can be very strong evidence to not only prove your case but also seek punitive damages.
Schedule a Free Consultation with Berman & Riedel, LLP
Have you been seriously injured by a speeding or reckless driver in California? You deserve full compensation for the harm you have suffered, your reduced quality of life, lost wages, and medical expenses.
At Berman & Riedel, LLP, we fight tirelessly to help accident victims seek justice and hold the responsible party accountable. We work with experts to gather evidence that demonstrates reckless or aggressive driving and causation. We will seek maximum compensation on your behalf and punitive damages when possible to help you get the care and quality of life you deserve.
Contact our law office today to schedule a free consultation with a San Diego accident lawyer. We have recovered over $100 million in verdicts and settlements for our clients and accept cases throughout California.