By: William M. Berman, Attorney at Law
BRAIN INJURY PRACTICE – Recognizing and understanding the signs and symptoms of a Traumatic Brian Injury (TBI) is extremely important in the practice of personal injury law. An attorney who recognizes the common signs and symptoms is better suited to pick up on what could otherwise be deemed by someone as "unimportant" entry note contained within a client's post-accident medical records. But an attorney who is versed in recognizing and understanding the signs and symptoms of a TBI will notice such entries, and is thus may be better skilled to handle a serious brain injury case.
The prevalent medical literature notes the common signs and symptoms of a TBI as being any combination of the following: memory loss, headaches, dizziness, difficulty with concentration, lack of recall, lack of focus, changes in speech pattern (slowed or slurred speech), difficulty being able to communicate as intended (aphasia), changes in behavior, irritability, anxiety, nervousness, depression, uncontrolled urges, manic episodes, uncontrolled feelings of sadness, difficulty sleeping, feelings of uncontrollable spinning (vertigo), seizures, enduring pain, muscle spasms, weakness with muscles use/control, lack of coordination and lack of strength is use of extremities. These signs and symptoms can wax and wain following the injury causing event, and are usually associated with the degree of injury brain injury sustained. To the extent a person suffers a severe TBI, these neurological disorders can be permanent and debilitating. Conversely, a person who suffers a Mild Traumatic Brain Injury (mBTI) can suffer these neurological deficits for some quite some time, and even years, but the prognosis for some recovery in cognitive function through medical re-education and retraining is usually good, although this is not always the case. Indeed, neurological deficits following a mTBI can be severe and completely debilitating.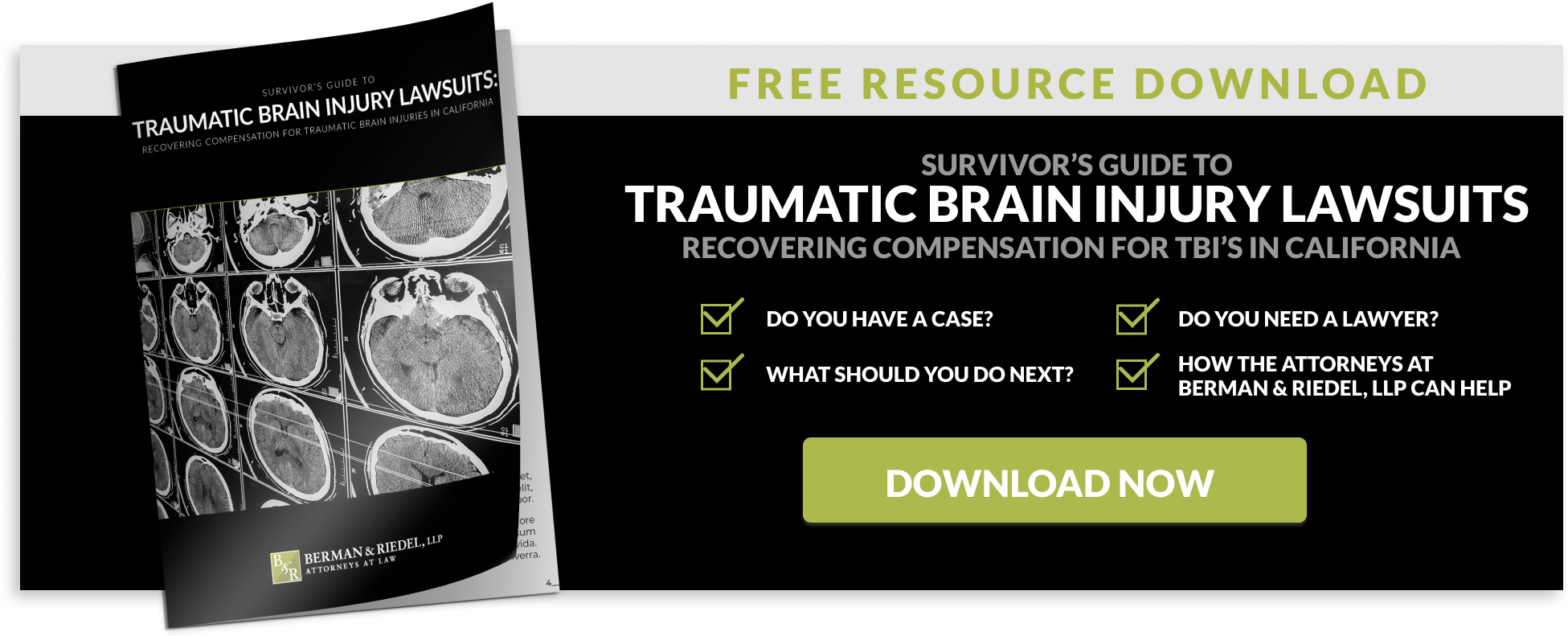 To the extent the term Mild Traumatic Brain Injury seems to be an oxymoron, it truly is. The term mTBI, which although commonly used and accepted in the practice of medicine as well as in the practice of law, is not used to connote a lack of seriousness of the injury. To the contrary, even someone who suffers a mTBI can endure serious and permanent lifelong changes of their mental and physical well-being. For those who suffer neurological deficits following a mTBI, proper medical care, treatment, therapy and functional retraining are critically important to living a productive life.
Berman & Riedel, LLP, is a local law firm in Southern California specilized in litigation's handing catastrophic personal injury matters including brain injury cases and other serious neurological injury cases.