A traumatic brain injury or TBI is one of the most devastating injuries you can sustain. The injury may cause permanent disability, loss of function, or personality changes that are readily apparent, but the effects can also be subtle and invisible.
If you have sustained a brain injury in an accident, you may be facing an uncertain financial future and a lot of questions. It's important to be proactive in pursuing brain injury compensation to safeguard your health and financial security, but how much is your injury worth?
A San Diego brain injury claim may be worth a few thousand or several million depending on the severity, the impact on your life, and dozens of other factors. Here's what you should know about head injury settlement amounts in California and what you should expect.
What Is the Average Settlement for Traumatic Brain Injury?
There are two ways to recover compensation for a brain injury in California: a settlement or a verdict. In a personal injury case, a settlement happens when both sides reach an agreement to resolve the case outside of court. If a settlement cannot be reached, the case can proceed to court for a jury to decide. If the jury sides with the plaintiff, they can issue a verdict that the defendant must pay.
While jury verdicts are public record, injury settlements made out of court are private. This means it is impossible to determine an average severe or mild traumatic brain injury settlements.
In 2020, Jury Verdict Research found the average personal injury verdict in California was $1.81 million, but the median damage award was $114,000. The difference is due to a number of very high-value verdicts which skew the average. The median is a better reflection of the typical California personal injury verdict.
The median California brain injury verdict was $1,595,000. This compares with the national verdict of $1,400,000 for a brain injury.
This does not tell the whole story. Jury verdicts are often higher than settlement amounts, but not always. During settlement negotiations, the defendant and their lawyer must consider the chances that a jury will side with you and what they may award. In exchange for a potentially higher jury verdict, it may take much longer to recover compensation – even years – and there will be higher expenses related to a trial.
Brain Injury Severity & Average Settlement Amounts
Because the value of your case must consider your current and long-term medical costs, pain and suffering, disability, and other losses, head injury settlement amounts tend to go up with the severity of the injury. Even concussion mild-traumatic brain injury settlements can exceed $1,000,000.  And cases involving severe Traumatic Brain Injury (TBI) can exceed $10,000,000 under circumstances where the injured party has extensive life care and medical treatment needs.
As a general rule, keep the following in mind in understanding the typical brain injury case settlement value; each case is fact-specific, and dependent on many different factors including the mechanism of injury, the type of injuries sustained, the care received, the future care that is necessary (if any), the damages unique to each case, the makeup of the "individual/plaintiff" bringing the case, the venue, etc.
Moreover, while concussion settlement amounts are generally lower than damages for severe TBI, the severity of the injury alone does not determine the value of your case. Along with the severity of the injury, the totality of your damages, the circumstances, and any long-term effects are considered.
Even a mild TBI case may be worth millions depending on the circumstances. Here is an example of the differences between two people who suffer a mild traumatic brain injury after a car accident.
Victim A suffers short-term headaches and memory loss and must take a week off work, but otherwise suffers no long-term symptoms. Their damages are mostly medical expenses and lost wages.
Victim B sustains a similar injury but develops post concussion syndrome (PCS), or symptoms that last far longer than usual. Victim B suffers typical PCS symptoms like noise and light sensitivity, dizziness, migraines, memory problems, and narcolepsy that make it impossible to return to their job or maintain gainful employment. Victim B's case would probably be worth a lot more.
Their post concussion syndrome settlement value would account for long-term medical care, lost earnings, diminished earning capacity, and reduced quality of life.
This shows why knowing the average settlement for a concussion from a car accident isn't helpful in determining what your case is worth.
Brain Injury Settlements & Verdicts We Have Achieved
The following verdicts and settlements achieved by Berman & Riedel, LLP for brain injuries may help you understand the potential value of your case. Just remember that no two brain injury claims are alike. The value of your case will depend on a variety of factors that are unique to you and your circumstances.
$8 million for a defective product (hydraulic pump) that caused traumatic brain injury and a seizure disorder.
$2 million for a medical malpractice case that resulted in brain damage and permanent blindness after a botched pituitary tumor surgery.
$5 million for neglect of a dependent adult with severe brain damage due to a prescription drug overdose.
$600,000 for elder neglect when a high-risk patient was left unmonitored and fell, suffering a brain injury that resulted in permanent cognitive impairment.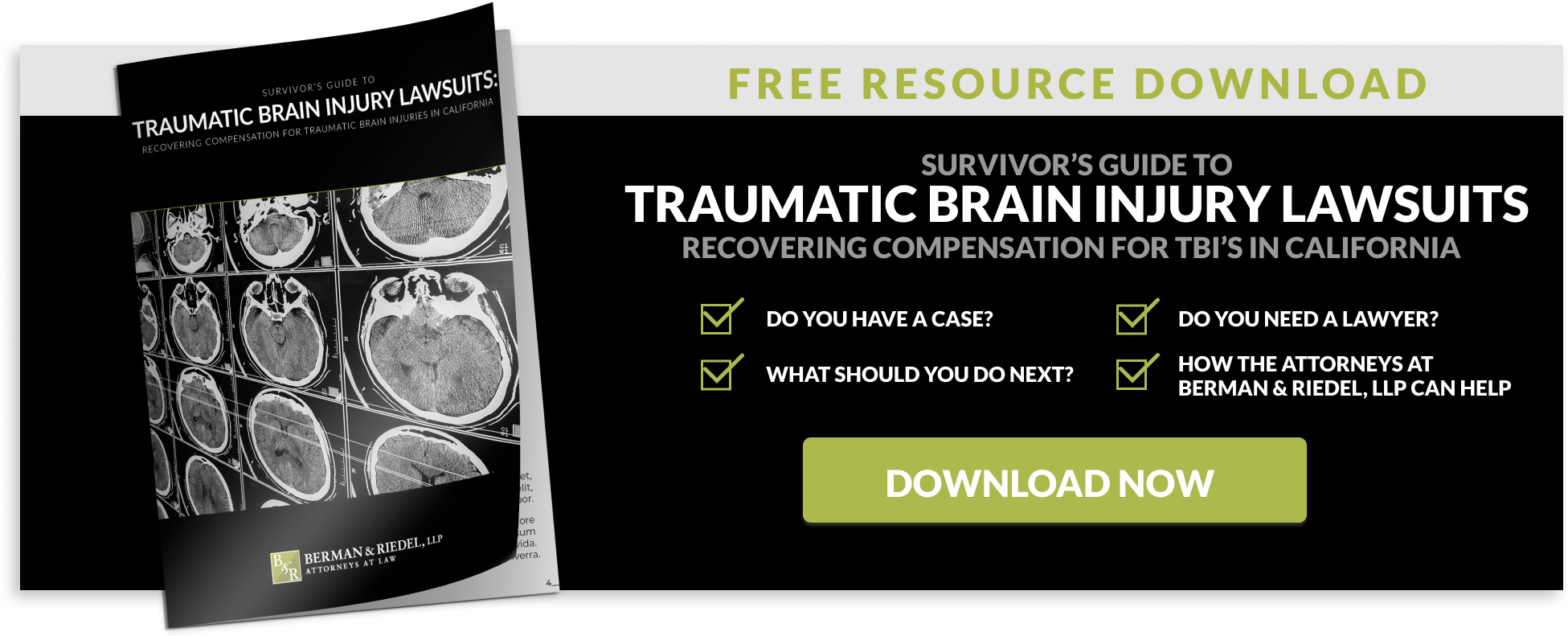 How Much Is a Brain Injury Case Worth? | Factors That Affect Brain Injury Claim Value
As you can see, brain injury compensation in California varies widely. This is why it's crucial to evaluate every traumatic brain injury case independently. What determines the value of a brain injury claim? Here is a more in-depth look at the factors affecting the traumatic brain injury or concussion settlement value you can expect.
Medical Expenses for a Traumatic Brain Injury
Traumatic brain injury has been described as a disease process, not a single event. This means people who suffer a TBI may be left with lasting effects similar to a chronic disease, including long-term medical costs.
A brain injury can result in significant medical costs. The estimated costs to care for someone with a severe traumatic brain injury range from $600,000 to $1.875 million. The Centre for Neuro Skills based in California estimates the lifetime cost of a mild brain injury at $85,000 and a moderate TBI at $900,000.
Medical care accounts for a large share of the average settlement for traumatic brain injury, but it varies depending on the severity of brain injury, recovery, and more. You are entitled to damages for your current and future medical expenses such as:
Surgery
Hospitalization
Acute hospital-based rehab (up to $8,000 per day)
Subacute and postacute rehabilitation in a residential facility (up to $2,500 per day)
Outpatient therapy (up to $1,000 per day)
Skilled nursing care
Assisting living
Counseling
Suicide intervention
Prescription medications
Treatment provided by care team that may include physical therapists, speech therapists, occupational therapists, neuropsychologists, social workers, rehabilitation nurses, and physiatrists
According to the Brain Injury Association of America, inpatient rehabilitation therapy alone can cost $46,000 on average ($1,600 per day) for a traumatic brain injury. However, the Centre for Neuro Skills has found that intense rehabilitation can reduce lifetime healthcare costs for TBI by $1.5 million.
Lost Earnings & Disability After a TBI
TBI is a leading cause of disability in the United States. Among typical adults who suffer brain injuries, about 60% are unemployed two years after their injury. According to the CDC, 2% of the U.S. population or 5.3 million people are living with a disability caused by a traumatic brain injury.
When you sustain a TBI due to someone else's negligence, you are entitled to recover compensation for your lost wages and future lost earnings. If you must take a significant amount of time off, or you are unable to return to your job, this can represent a large share of the value of your case.
The value of your lost wages may be easy to calculate, but determining the value of your lost earning capacity can be challenging. This may require consideration of:
Your age and life expectancy
Your occupation
Professional qualifications and skills
Post-injury earning capacity
Lost benefits of employment such as pension contributions and health insurance
Additional Economic Damages in a Brain Injury Case
In addition to your lost wages, lost earning capacity, and medical expenses, head injury settlements include compensation for other financial losses you have suffered. Examples include:
Vocational training
Modifications to your home or car
Domestic services such as housekeeping while you recover or due to long-term impairment
TBI Pain and Suffering & Non-Economic Losses
Traumatic brain injury settlements compensate for not only economic losses like earnings and medical expenses but also non-economic damages. How a brain injury impacts daily life is a major factor in determining fair brain injury compensation.
A traumatic brain injury causes not only physical injury but also mental, emotional, and cognitive injury. You are entitled to seek compensation for these losses that have no financial value.
Non-economic losses associated with a brain injury include:
Pain and suffering
Mental anguish
Emotional distress
Loss of enjoyment of life
Loss of consortium
Loss of companionship
To recover damages, your personal injury lawyer will help you document and quantify these losses to paint the full picture of how your injury will affect you.
Like economic damages, non-economic damages after a brain injury vary significantly from one person to another. As a general rule, your economic losses are multiplied by a factor of 1.5 to 5 depending on the severity of your injury to value your personal losses. This will be used as a starting point to negotiate a fair assault, fall-related, or car accident concussion settlement.
An experienced San Diego brain injury lawyer will fight for compensation for not only the invisible effects of a TBI but also the increased risks you face. A fair settlement considers that a brain injury is more like a chronic disease than an acute injury with very real, long-term risks. After a brain injury, you are at an increased risk of:
Dementia. There is a 2.3x higher risk of dementia after a moderate TBI and a 4.5x greater risk after a severe TBI. The link between a brain injury and dementia is strong even decades after the injury.
Mental illness. There is strong evidence that a brain injury can cause mental illness and intellectual or mental disorders. TBI increases the risk of some mental disorders by up to 400%. This includes bipolar disorder, schizophrenia, depression, and PTSD. This risk is likely due to disturbed neurotransmitters in the affected region and inflammation in the brain.
Chronic migraines and headaches. Headaches are very common after TBI and most resolve after a year. However, one-third of TBI survivors suffer chronic migraines and headaches for more than one year.
Substance abuse. Addiction or substance abuse is a risk factor for TBI, but a traumatic brain injury also increases the risk of developing a substance use disorder.
Higher risk of additional concussions and the dangerous effect of multiple concussions.
Other Factors That Affect the Value of a Brain Injury Case
How much is a brain injury case worth in California? Determining the value of your case requires more than adding up your economic losses and putting a financial value on your personal losses. Here are additional factors that play a role.
Have you reached maximum medical improvement (MMI)?
This is when your doctor does not believe your condition will improve further with additional treatment. However, it does not mean you have made a full recovery yet, or that your condition can't improve. It's important to reach MMI before negotiating even mild traumatic brain injury settlements to make sure you understand your prognosis, projected future medical expenses, and your ability to return to work.
Settling before you reach MMI may mean leaving money on the table if your condition turns out to be worse than you believed.
Does your case have clear liability?
The more certain liability is in your case and the stronger your evidence, the faster your case will likely settle and the more you will generally recover. Insurance companies consider how they will do in court against a jury when deciding when to settle and for how much. If it is clear the defendant was at fault, they know they have little if any chance of winning a court case. More complex cases don't just take longer, they also have higher costs of litigation which reduces your compensation.
Do you share blame for your accident?
If you contributed to your accident, you will be assigned a share of fault. California uses a pure comparative negligence system that allows you to recover compensation even if you were partially at fault, but your recovery will be reduced according to your share of fault.
If you suffered $50,000 in damages but you are found 30% at fault for the accident, you can only recover $35,000 (minus 30% or $15,000). Insurance companies may try to shift as much blame as possible to you to reduce their liability.
Are you eligible for punitive damages?
Rare personal injury claims in California are entitled to punitive damages. If you can show your brain injury was caused by the defendant's "malice, oppression, or fraud," a jury may award punitive damages on top of your compensatory damages. Most cases eligible for punitive damages involve intentional harm, extreme recklessness, or disregard for the rights and safety of others.
Punitive or exemplary damages are not available in a settlement; only a jury can award these damages to punish the defendant. This is one potential reason a San Diego brain injury lawyer may recommend going to trial in some cases.
What are your avenues for compensation?
Recovering a jury award for millions against a defendant does not help you if the defendant has no insurance, no assets, and no ability to pay the judgment. Your lawyer will carefully evaluate all possible avenues for you to recover compensation. You may potentially recover compensation from:
Commercial liability insurance
Car insurance
Homeowner's insurance
Workers' compensation insurance
Personal umbrella insurance
Personal injury protection (PIP) insurance
Med Pay coverage
The coverage available will limit how much you can recover after your accident. If the defendant's insurance does not fully compensate you, you may turn to personal insurance policies and/or pursue their personal assets to make you as whole as possible.
Are there other factors that may affect your brain injury compensation?
Some factors can increase or decrease the amount of compensation you may recover such as:
Witnesses and whether they are credible
An uncredible or unsympathetic defendant
Whether the insurance company acts in good faith and makes a reasonable offer
The amount of medical documentation you can provide
How quickly you sought medical attention
Whether the jury is sympathetic
The number of defendants as this gives you additional avenues for compensation
How Berman & Riedel, LLP Can Help You After a Traumatic Brain Injury
After a brain injury, it's essential to seek medical care as soon as possible. The next step is contacting an experienced brain injury lawyer in San Diego to ensure you pursue fair compensation for the harm you have suffered.
At Berman & Riedel, LLP, we have extensive experience representing clients who have sustained brain injuries due to falls, nursing home neglect, car accidents, and assault. We work closely with respected brain injury experts to ensure you are correctly diagnosed and treated, and to provide expert testimony about the effects your injury will have on your future.
Our law firm is based in San Diego, but we represent brain injury victims throughout California. Contact a San Diego brain injury attorney today to schedule a free consultation to discuss your case and how much your brain injury claim may be worth.