For athletes, sports-related injuries can have a life-changing effect on not only their health but also scholarships, education, and their livelihood. Many athletes suffer injuries that are worsened when they are okayed to resume playing after insufficient treatment. Injuries that were minor, such as sprains, can lead to torn ligaments and permanent damage without prompt, proper treatment. College and professional athletes are at risk of serious injuries that can end their careers prematurely and lead to permanent disability and cognitive impairment.
At Berman & Riedel, LLP, we represent athletes who have suffered serious injuries due to dangerous, negligent behavior and policies. If you believe your injury occurred due to negligent policy or the disregard or failure of someone who had a duty to protect you, we will fight for your rights and help you hold them accountable.
Sports Related Injury Cases We Handle
At Berman & Riedel, LLP, we handle all types of sports injuries involving high school sports, college sports, and professional sports. Below are some of the most common types of sports injury claims we handle.
Artificial turf claims
Concussions and traumatic brain injuries
Non-contact sports injuries
Spinal cord injuries
Rotator cuff injuries
Achilles tendon injuries
Back injuries
ACL tears and strains
Dislocations
Inadequate or improper treatment of sports injuries
Product liability claims for defective equipment
Athlete workers' compensation claims
NCAA & College Sports Injuries
210,000: number of injuries suffered every year by about 480,000 college athletes who compete in NCAA sports (MMWR)
47,199: Average number of injuries per year in collegiate men's football which has the highest competition injury rate in the NCAA (39.9 per 1,000 athlete-exposures)
13: Overall injuries per 1,000 athlete-exposures in collegiate men's wrestling with a practice injury rate of 10.2 per 1,000
2,040: spinal injuries reported in NCAA wrestling among 7,200 student-athletes over four years (Orthopedic Journal of Sports Medicine)
The nonprofit National Collegiate Athletic Association (NCAA) regulates college athletics and athletic programs at nearly 1,100 schools. Every year, more than 100,000 student-athletes in U.S. and Canadian colleges and universities compete in NCAA college sports under a three-division system.
The NCAA sponsors dozens of sports with 90 annual national championships: 46 women's sports including beach volleyball, rowing, and field hockey; 41 men's sports including basketball, football, and wrestling; and 3 co-ed championships for skiing, fencing, and rifle.
The NCAA has long imposed regulations prohibiting student-athletes from receiving a salary. It previously limited the compensation players could receive to scholarships equal to their tuition and expenses, but this cap was ruled a violation of antitrust law by the Supreme Court in 2021. A national study found the average "full" athletic scholarship still fell short of the total cost of attending school by thousands with most full scholarship players living below the poverty line. College athletes can now enter into third-party paid sponsorships and endorsement deals.
"The NCAA's business model would be flatly illegal in almost any other industry in America. It is highly questionable whether the NCAA and its member colleges can justify not paying student athletes a fair share of the revenues."
-Supreme Court Justice Kavanaugh
The financial aspect is not the only challenge student-athletes face. A 2015 study of Pac-12 teams found athletes often work 50-hour weeks on their sports and struggle with physical and mental exhaustion that affects athletic and academic performance.
The NCAA generates more than $1 billion in revenue every year. Yet, college athletes who are injured often bear the financial cost of insurance and treatment.
The Challenges of Compensation for College Sports Injuries
College athletes risk their bodies and future in exchange for a scholarship and the hope of making it to the pro league. Sadly, many student-athletes find their hopes dashed when they suffer a serious injury that derails their future and leaves them with significant medical costs.
The NCAA requires student-athletes to have personal basic accident insurance coverage of at least $90,000 before they can participate in sports. Colleges and universities are not required to pay for this coverage. The NCAA does provide athletes with catastrophic injury coverage – but this does not take effect until treatment costs exceed $90,000. This coverage has significant limitations.
For instance, the total disability benefits are capped at $400 per month for 12 months and $2,700 per month beyond the first year. This benefit can be reduced to $0 if the athlete is capable of working any regular job after their career-ending injury. Another major concern is the policy only pays for one-time treatment of catastrophic injuries like spinal cord injuries and brain injuries. It does not cover future medical expenses for these injuries.
For qualifying star athletes, the NCAA also offers the Exceptional Student-Athlete Disability Insurance program. To participate in this coverage, student-athletes must buy a contract with preapproved financing. The premiums for these policies can be up to $12,000 for every $1 million in coverage. Athletes often end up with around $50,000 in debt they must repay after their college career.
Colleges have the option of paying for a loss-of-value (LOV) insurance policy for athletes and many do it as a recruiting tool for top athletes. The premiums for this coverage can top $350,000.
Despite these coverage options, student-athletes are usually not protected well enough. Most student-athletes face the burden of paying for their own treatment when they are injured during practice. Most do not earn enough to pay for disability insurance coverage that can protect their future earnings.
If you have suffered an injury during college sports that you believe may have been caused by negligence, or suspect your injury was not treated properly or exacerbated outside your control, you may have legal options. An experienced NCAA injury lawyer can help you protect your interests and legal rights.
NFL & Football Injuries
149: concussions reported by the NFL over 271 games during the 2022 regular season. That's up 18% from 126 concussions in 2021. (NFL report)
16%: Increased likelihood of premature death for players who play 24 games.
60%: NFL players who had already suffered at least one concussion (2000 report)
1 out of 3: Number of players the NFL expects to develop long-term cognitive problems, usually at a much younger age than the general population
30.8: Average injuries sustained over a season for every 100 NFL players (analysis across 13 seasons)
All sports come with risks, but football is one of the most high-risk sports. NFL players may be hurt at a lower rate than other professional sports players, but the severity of injuries sets professional football apart with a very high rate of brain injuries and catastrophic injuries.
Cases of CTE in the NFL have made headlines, but so have other injuries like commotio cordis. This rare event, which happens in people with no underlying heart condition, happens when blunt trauma to the chest affects the heart's rhythm. It was the cause of the near-fatal collapse of Buffalo Bills' safety Damar Hamlin.
Changes to the NFL concussion protocol were approved in 2022, days, after Tua Tagovailoa was removed from the field on a stretcher following care, received for two confirmed and one suspected concussion that year. However, experts still warn there are gaps in how concussions are recognized and treated – and how players can be protected from serious injury.
Berman & Riedel, LLP represents football players who have suffered serious injury during practice or games. Attorney William Berman has received media attention for his representation of Denver Broncos player Aaron Patrick in his NFL lawsuit over an ACL injury he suffered in an out-of-bounds collision.
Sports Illustrated: Broncos OLB Aaron Patrick launches lawsuit over ACL injury
Washington Post: A Broncos linebacker's lawsuit focuses on sideline safety at NFL games
Mile High Report: Aaron Patrick sues NFL, Chargers, ESPN for knee injury in out-of-bounds collision
NBC Sports: NFL, ESPN, Rams, Broncos have no comment in Aaron Patrick lawsuit
"Player safety should be of the foremost importance to the NFL and its owners. The NFL is a multi-billion-dollar sports enterprise and business, and it needs to do everything possible to protect its players from non-contact game injuries."

-Attorney William M. Berman
We represent players with all types of football injuries:
Concussions
Shoulder dislocation
AC separation
Labrum tears
Rotator cuff injuries
ACL, PCL, MCL, and LCL injuries
Meniscal tears
Ankle sprains
Patellar tendinitis (jumper's knee)
Achilles tendinitis
Stress fractures in the feet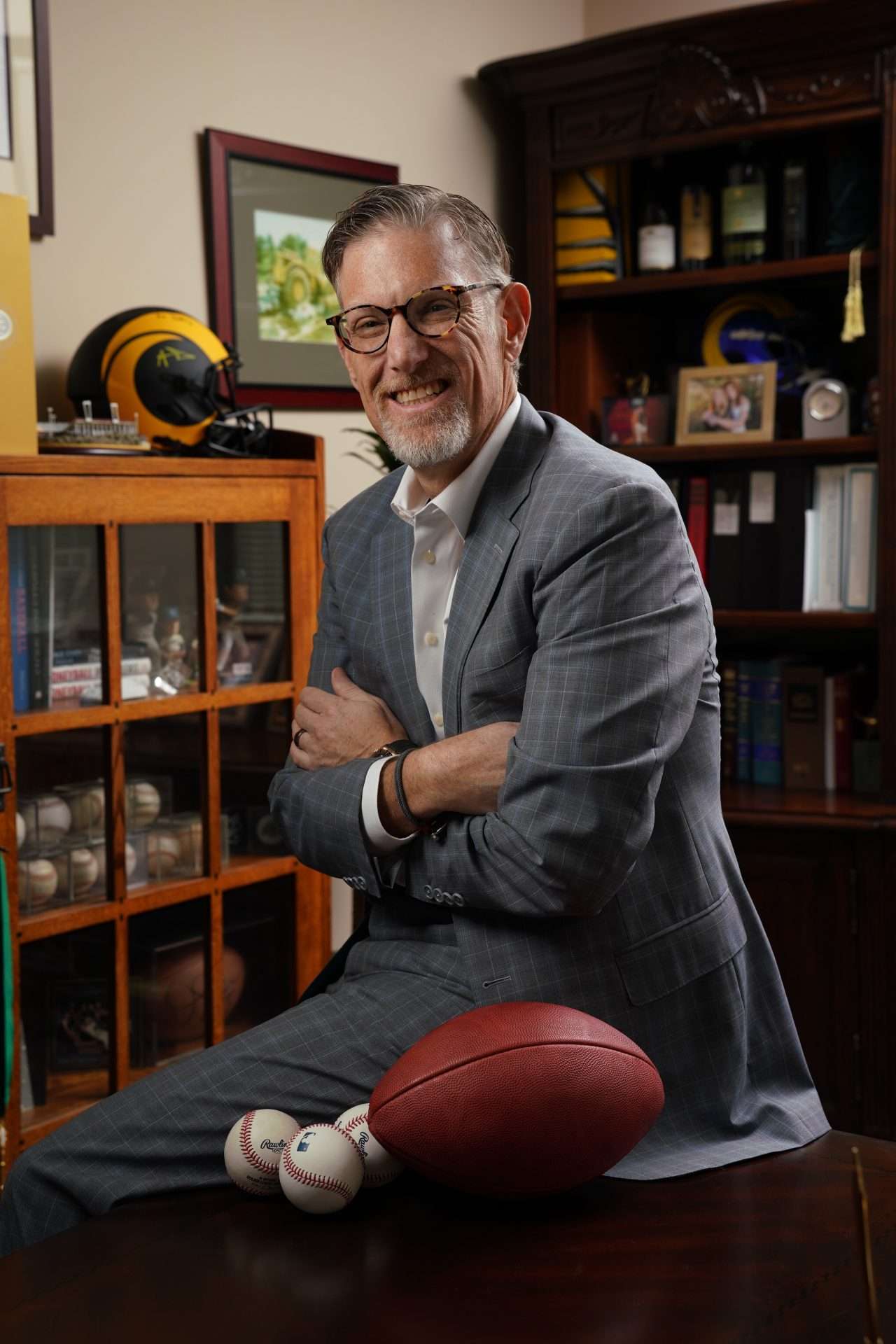 Concussions in Football
Football concussions often have long-lasting effects. One study of 350 former NFL players found those with a history of concussions and symptoms of concussions had reduced cognitive performance later in their lives. This study found that the symptoms a player had after suffering a concussion were a bigger risk factor than having multiple concussions. Players who had a loss of consciousness had the greatest reduction in cognitive performance later in life.
After years of disputing a growing body of evidence that NFL players suffered a high rate of serious brain injuries, the NFL in 2014 stated in court that it anticipates one-third of players to develop long-term cognitive issues and related conditions that develop at a much younger age than the general population.
In 2000, more than 60% of NFL players had already suffered at least one known concussion during their careers, and 26% of players had suffered at least three concussions. Diseases and injuries linked to concussions and head trauma include cognitive impairment, Alzheimer's disease, Parkinson's disease, amyotrophic lateral sclerosis (ALS), and chronic traumatic encephalopathy (CTE), a degenerative brain disease.
A common misconception is concussions require a hard blow to the head; concussions do not require a blow to the head and there is no threshold of force required to cause a brain injury. In fact, a study commissioned by the NFL determined blows below 85g were unlikely to cause a concussion, but a study using football helmet sensors that recorded 104,000+ impacts found almost half of the recorded concussions were below this threshold.
MLB & Baseball Injuries
Baseball is often considered one of the safer sports, especially when compared to football and hockey. However, baseball still comes with very real risks. In 2021, the New York Times published "It's Not Your Imagination: MLB Players Are Getting Hurt a Lot" to shed light on the underrecognized injuries MLB players experience.
The MLB has the longest season of all professional sports with 162 regular-season games between two months of spring training and a month of playoffs.
After the shortened 2020 season due to the COVID-19 pandemic, MLB players had a much higher injury rate in 2021 caused in part by missed conditioning and buildup. Baseball is also an incredibly asymmetrical sport; players typically use just one arm repetitively.
Hamstring injuries are the most commonly reported injuries in the MLB. Baseball players are also at high risk of soft-tissue injuries like muscle strains, groin injuries, oblique injuries, fractures, being hit by a pitch, tendinitis, ligament injuries, and bone spurs that can lead to bone chips.
Common baseball injuries include:
Rotator cuff tears
UCL injuries
Labral tears
ACL tears and sprains
Shoulder instability ("dead arm" injury)
Wrist tendinitis
Bone chips (bone spurs in the elbow that break off into chips)
NHL & Hockey Injuries
Injuries while playing hockey are incredibly common due to the high-speed collision nature of the game. Players skate at speeds of up to 30 mph while frozen pucks can be propelled with a velocity of more than 100 mph.
Factors that can cause hockey injuries include:
High-impact contact from other players
Rigid boards
Goal posts
Skate blades
Hockey sticks
Pucks moving at high speeds
Despite the high injury rate in hockey, there have been few studies into the types of injuries and injury rate in professional ice hockey.
Generally, forwards have a higher risk of injury than defensemen for MCL tears, one of the most common hockey injuries, according to a seven-year study of ice hockey injuries. Defensemen have the higher risk for more serious concussions.
At the 2010 Olympic Games, ice hockey was the sport with the most risk with 13% to 35% of players injured. Studies have found a hockey injury rate of 52 to 84 injuries per 1,000 player-game hours at the professional level.
Common hockey injuries include:
ACL strains and tears
Shoulder dislocation
Collarbone fractures
MCL strains and tears
AC joint separation
Concussions
Dental injuries
Lacerations
Cervical spine and spinal cord injuries
Hockey injuries have decreased thanks to better equipment, training, and more proactive treatment. Rule changes like the Instigator Rule, adopted for the 2005/2006 season, may have also made hockey safer. Despite these positive changes, there were more than 5,300 NHL hockey injuries between 2017 and 2021. Players can face career-ending injuries and even catastrophic spinal cord injuries.
NBA & Basketball Injuries
Basketball isn't a high-speed collision sport like hockey or football, and it isn't the first sport most people think of when they consider sports injuries. However, basketball is still a fast-paced contact sport with athletes experiencing an average of 6 to 14 injuries for every 1,000 hours played.
Playing basketball places a great deal of stress on the knees and frequently leads to injuries to the ligaments, tendons, and meniscus. These injuries can require surgery and permanently affect an athlete's performance – or even derail their career.
Common basketball injuries include:
Foot fractures
ACL sprains and tears
Stress fractures
Achilles tears
Meniscal tears
Patellar tendinitis (jumper's knee)
Osgood-Schlatter disease or inflammation where the kneecap and shinbone attach (common in youth basketball)
Sever's disease or calcaneal apophysitis (inflammation of the growth plate in the heel common in youth basketball)
MLS & Soccer Injuries
Many people mistakenly assume soccer is a safe sport, especially when compared to football. The truth is soccer is a contact sport with a high rate of injuries. The game itself is very hard on the body and cleats and on-field collisions can cause serious injury. Many players have suffered career-ending injuries during a match or practice – and dozens have even died on the field.
Between 2014 and 2019, MLS players sustained more than 9,700 injuries with an average of one injury per player per year. Midfielders and forwards have the highest rate of injuries. One of the most serious injuries soccer players face is an ACL rupture. A study published in the Orthopaedic Journal of Sports Medicine found 52 MLS players required ACL reconstruction between 1996 and 2012 on 57 knees.
Of these 52 players, 40 were able to resume playing but 23% were unable to return to the game. Even those that resumed playing had to wait until the next season in almost all cases.
Common soccer injuries include:
Foot fractures
Wrist fractures
ACL sprains and tears
Meniscal tears
Concussions
Clavicle fractures
Achilles tendinitis
Patellar tendinitis
Iliotibial band syndrome (ITBS)
Runner's knee
Stress fractures
Kneecap bursitis
Who Can Be Held Liable in a Sports Injury Lawsuit?
Sports comes with risk and some injuries as unavoidable and an expected part of the game. When a sports injury is the result of negligence, athletes may be able to hold the negligent parties liable for the injuries they sustained.
Waivers of liability are not always valid and do not protect defendants from many forms of negligence. Assumption of risk, another common legal defense, also has its limits. Athletes are only assuming risk for known risks inherent to the sport; they can't assume the risk for injuries caused by someone else's negligence.
Depending on the circumstances of your injury, multiple parties may share liability:
Sports leagues
Sports teams
Facility and stadium owners
Broadcasters
Product manufacturers
Medical professionals (medical malpractice claim for failure to diagnose, failure to treat, or inadequate treatment)
Outside professional sports, parties liable for sports injuries can include:
Coaches
Schools and other organizations
Manufacturers
Medical providers
Other players
Compensation for Sports Related Injuries
Athletes have two primary avenues for recovering compensation for sports-related injuries: a personal injury lawsuit and workers' compensation, the latter of which is available to professional athletes.
A successful personal injury lawsuit allows you to recover compensation for everything from lost wages and future earnings to medical expenses and pain and suffering. Workers' compensation has more limited benefits.
There have also been mass tort and class action lawsuits that allow injured athletes to recover compensation. The largest to date is the NFL concussion settlement which was settled for $1 billion in 2015. In 2021, the NFL admitted no wrongdoing but agreed to stop the use of "race-norming," a crude system used in dementia testing that made it harder for Black players to recover compensation for dementia.
California Workers' Compensation for Professional Athletes
Workers' compensation for athletes varies significantly by state, but professional athletes are generally entitled to workers' comp benefits for injuries incurred during sports activities and practice.
California workers' compensation law considers professional athletes to be employees and entitled to benefits when they are injured on the job. These benefits can include:
Temporary disability benefits
Permanent disability benefits
Lifetime pension for athletes who are rated 70% or more disabled
Vocational rehabilitation
The workers' compensation program offers the most benefit to athletes who suffer serious injuries that cause long-term or permanent disability or injuries that end their sports career.
It's important to understand that workers' comp does not just cover acute injuries – it can also provide compensation for cumulative injuries that occur over an entire career.
Berman & Riedel, LLP is affiliated with workers' compensation attorney Justin Litvak, Esq. who can handle the workers' compensation aspects of sports injury cases nationwide.
Request a Free Consultation with a California Sports Injury Lawyer
If you have suffered a sports injury, it's critical to consult with an experienced sports injury attorney as soon as possible to protect your rights. Depending on the circumstances, you may have an avenue to recover compensation for the injury you have sustained, the harm to your career, lost earnings, and the future consequences of your injury.
The California sports injury lawyers at Berman & Riedel, LLP are prepared to review your case and help you hold the responsible parties accountable. We understand not only the risks you face as an athlete but how the injuries you sustain can affect you for a lifetime. We handle sports injury cases throughout California and work with attorney Justin Litvak, Esq. to handle nationwide workers' compensation claims for sports injuries.
Contact our law firm today for a free case review with a sports injury lawyer in California to discuss your case and how we can help you.