Has a loved one suffered a serious fall in a nursing home? Sadly, nursing home falls are incredibly common with up to 75% of residents falling every year. While some falls are impossible to prevent, most falls in a nursing home are preventable with a reasonable fall management plan.
Here is a look at just how serious these falls can be, why falls happen in nursing homes, and what to do when a resident falls in a nursing home.
How Common Are Falls in Nursing Homes?
While many people think of abusive staff or failure to provide medical treatment when they imagine nursing home neglect and abuse, falls are one of the most common dangers nursing home residents face.
The following statistics shed light on just how frequently nursing home residents fall.
The CDC estimates that 50-75% of nursing home residents experience a fall every year. That's about double the rate of seniors living in the community.
About one-third of nursing home residents who fall will fall 2-3 more times in a single year.
The average nursing home with 100 beds reports 100 to 200 falls every year.
About 1,800 nursing home residents die after a fall every year.
More than one-third of fall-related injuries happen to nursing home residents who are unable to walk.
In 2020, the first national assessment of how nursing homes self-report fall injury rates was released by the Center for Medicare Advocacy. These self-reported rates are used by CMS for public reporting and quality measures.
The study found that just 57.5% of major injury falls among residents were reported. These major injury falls were identified through Medicare hospital admissions claims.
Fall Injuries in the Elderly – Consequences of a Fall
Falls can be life-changing and even fatal in older adults. Even ground-level falls, or a fall to the floor from a standing position, can be serious and should not be underestimated. 1 out of every 5 falls among seniors results in a serious injury. Fractures alone occur in 10-20% of nursing home falls. Falls are also one of the leading causes of hospitalization among seniors 65 and older.
Common Fall Injuries in the Elderly
Older adults can suffer serious and debilitating injuries even in a low-impact fall. The following are the most common types of injuries sustained in nursing home falls.
Head injuries which are involved in 49% of fall-related deaths among seniors.
Traumatic brain injury (TBI). Over 80% of TBIs in seniors are caused by falls. With age, the blood vessels in the brain are more susceptible to damage. TBI can be fatal and lead to a wide range of complications. It may affect cognitive function, speech, and mobility, and it increases the risk for depression and anxiety.
Hip fractures. Over 95% of hip fractures are the result of a fall, usually a sideways fall.
Other fractures. Other fractures common in falls include the femur, pelvis, vertebrae, forearm, humerus, and bones in the hand.
Stroke which can be the result of a brain injury sustained in a fall. Post-stroke victims are then at an increased risk of falling again.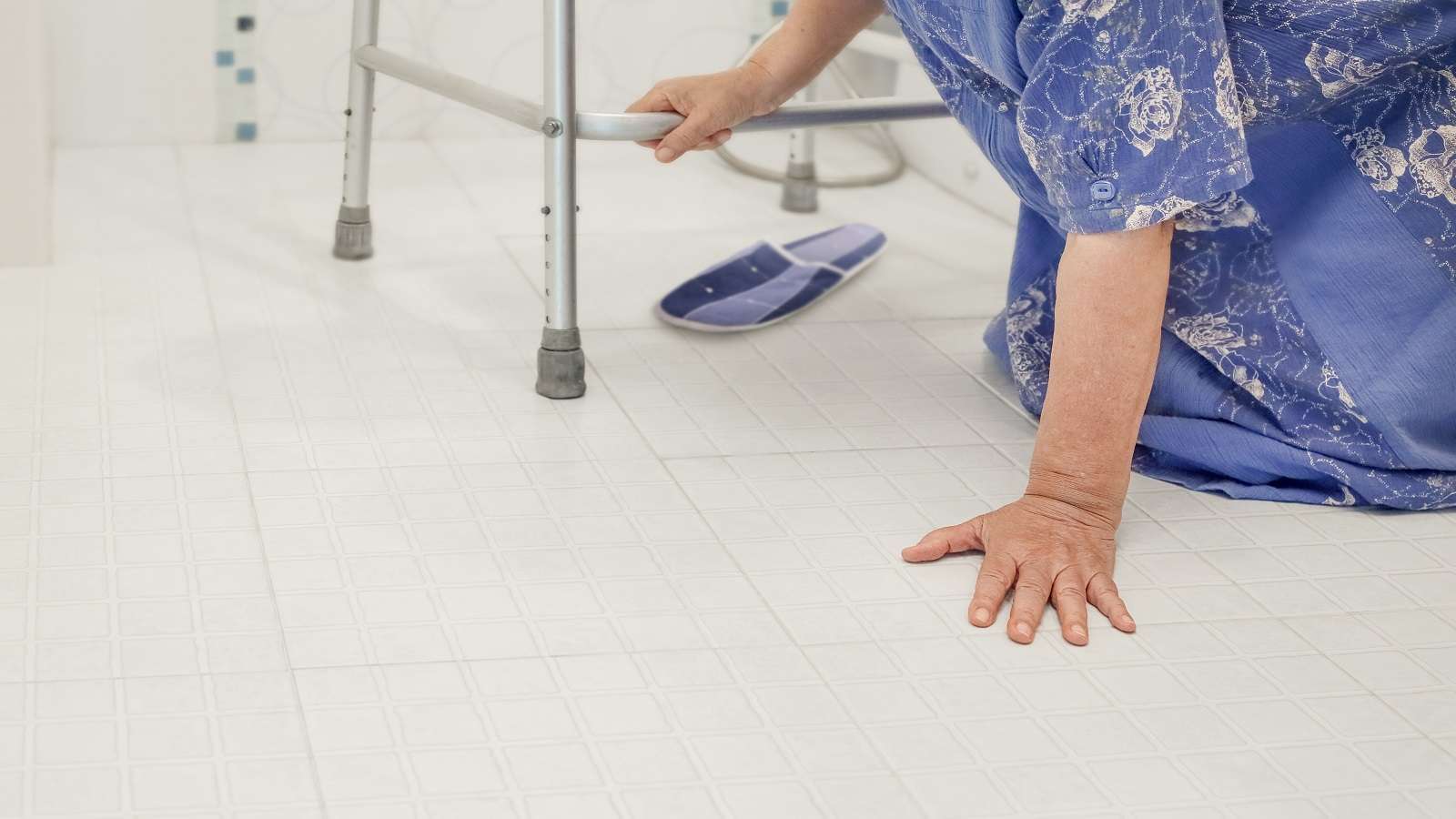 Elderly Deterioration After Fall Accidents
Falls aren't just common among seniors; they often lead to serious and long-lasting complications. One study found that over 50% of seniors who visited an ER for fall-related injuries suffered additional adverse effects within 6 months. This included additional falls, hospitalization, and premature death.
Why do elderly deteriorate after falling? It's a combination of factors such as:
Frailty
Slower healing process with age
Vulnerability to hospital-acquired infection like catheter-associated UTI and pneumonia
Risks of surgical procedures including further trauma to tissue and sedation
Pre-existing health conditions
A fall can set off a dangerous chain reaction in an elderly person. Seniors who are frail are far more likely to suffer serious injury. Osteoporosis is just one concern which affects 1 out of 4 women over 65. This reduced bone mass can result in a fracture even in a low-impact fall.
Not only are seniors more susceptible to injury in a fall, they have difficulty recovering. The elderly have diminished healing capacity. The skin has fewer stem cells and growth cells, and immune cells and skin cells have disrupted communication. Blood vessel disease, malnutrition, and other health conditions impair healing further.
Someone with weakened physical and immune function who has suffered a serious injury doesn't just have trouble healing from the injury itself; there are additional risks that occur while recovering.
While hospitalized for an injury, older adults are at a very high risk of developing immobility syndrome. This is especially common after a hip fracture which prevents the senior from getting up and walking. Even in healthy, young adults, immobility during hospitalization quickly causes a loss of muscle mass and strength as well as reduced range of motion and other effects. In the elderly, these effects are compounded.
70% of older adults experience a decline in function after a hospital stay.
Finally, the elderly face additional hospitalization risks. The need for surgery which requires possibly dangerous anesthesia and creating new wounds combined with the risk of a hospital-acquired infection can easily be fatal. Delirium is also far more common among hospitalized seniors, occurring in 33% of hospitalized patients over 65 and 70% of older adults in the ICU.
Combined, all of these factors make elderly recovery after a fall an incredible challenge. Hospitalization may even begin a vicious cycle. Seniors who suffer a fall are more likely to fall again, be readmitted to the hospital, and/or fail to ever regain independence and mobility.
Falls Are Often Fatal for Older Adults
An increasing number of elderly people are dying from falls. In 2016, about 25,000 seniors 75 and older died from fall-related injuries. That's nearly three times as many fall-related deaths in 2000.
Among adults 75 and older, the fall-related death rate was 116 per 100,000 for men and 106 per 100,000 for women. The risk increases with age: the fall-related death rate climbs to 591 per 100,000 for people 95 and older.
One study found that older adults are 3x as likely to die after even a low-level fall compared to people under 70.
Sadly, seniors are 4x more likely to die after a fall in a nursing home compared to seniors who live in the community.

What Causes Nursing Home Falls?
Why are there so many falls in nursing homes? There are many reasons related to both mobility and health issues among residents and inadequate fall protection by the facility.
Nursing home residents are generally more frail, older, are in poorer health, and are at greater risk of a fall than seniors who live in the community. Still, most falls are preventable in a well-run nursing home. Sadly, many facilities claim falls are unavoidable and try to avoid responsibility.
Nursing home injuries from falls are usually caused by a combination of factors.
Intrinsic risk factors include:
Muscle weakness and gait problems. These account for about 24% of nursing home falls.
Chronic disease or acute medical problems
Behavior and unsafe behavior, usually due to cognitive decline or impairment
Side effects of medication
These intrinsic risk factors can never be eliminated and there is no way to prevent 100% of falls. However, these factors can be managed to dramatically reduce the risk of a resident falling.
External risk factors such as environmental hazards are a far more serious concern. The CDC estimates that 16 to 27% of nursing home falls are caused by hazards in the environment such as wet floors, trip hazards, poor lighting, clutter, unstable furniture or bed wheels, or even defective wheelchair brakes.
View this post on Instagram
A nursing home fall can happen when at-risk residents slip, trip, or fall due to gait problems, poor mobility, improper footwear, or balance issues. They can also happen when residents are left unattended. Sadly, many falls happen when residents are transferred between a bed and a walker, wheelchair, toilet, or to a standing position. Transfers are a high-risk situation for CNAs and residents alike.
Fall Prevention in Nursing Homes & Protocols
Even though a nursing home cannot prevent every fall, it should have a comprehensive fall management program. This program helps staff identify and intervene to prevent most falls by managing intrinsic risk factors and addressing external factors.
Fall prevention in nursing homes is a multi-faceted approach that includes:
Initial and regular screenings to identify patients at risk of a fall
Individualized care plans to address each resident's risk factors
Medication management to identify medications that increase the risk of a fall, ensuring medications are reviewed regularly, and develop a care plan to mitigate this risk
Ensure mobility aids like wheelchairs and walkers are safe, stable, and adapted to the patient's needs
Ensure residents have proper footwear that reduces the risk of a slip and fall
Inspect the facility often to identify and correct trip hazards and environmental hazards
Ensure transfers can be done safely with sufficient staff and proper equipment
Make sure staff levels are adequate to properly supervise all residents and provide the amount of care they require
Ensuring staff receive adequate training to recognize and address fall risks
Providing residents with activities and fitness programs that reduce the risk of a fall by improving strength, balance, and range of mobility
Make sure personal items are accessible to residents
California Nursing Home Requirements When Patient Is a Fall Risk
Most fall prevention strategies are not specifically required by law in California, however, California nursing homes are required to assess each patient's fall risk and implement fall prevention protocols.
Nursing homes must also:
Employ an adequate number of qualified personnel
Care for residents in a manner and in an environment that maintains or improves the resident's quality of life
Provide the necessary services and care to maintain the resident's physical, psychosocial, and mental wellbeing
Provide reasonable accommodations for a patient's needs and preferences
Provide activity programs that meet the resident's interests and needs
Provide adequate lighting
Provide the services and items in the patient's care plan
With these regulations in mind, the nursing home falls protocol that may be required will depend on the patient and what is considered reasonable. The facility itself must be clean, in good condition, with adequate lighting, and free of environmental hazards that increase the risk of a fall. California nursing homes must develop an individual plan of care for each resident and provide services, devices, and care as needed to mitigate the patient's identified risk factors. What is considered reasonable depends on the situation.
In one case, a nursing home was found liable for the fall-related death of a resident after failing to use bed alarms. In this case, a bed alarm was ordered by the resident's physician.
A California nursing home was found partially liable for a patient's death after the man unbuckled a safety restraint and fell out of a wheelchair. The California Department of Health found the facility violated its own guidelines by requiring one-on-one monitoring in his case. Staff had also documented unusual behavior but did not take steps to prevent him from harming himself.
Are nursing homes required to report falls?
After a patient falls, the nursing home should record the fall in an incident report. The patient should be examined and the report should be reviewed to evaluate the circumstances surrounding the fall. If abuse or neglect is suspected, or the patient suffered serious injury or death, the nursing home is required to report the fall to the state.
There is also a California requirement to notify family of a slip and fall in a nursing home. Under federal and state law, the resident's physician and, if known, a representative or interested family member must be informed if the resident is injured in an accident or experiences a decline in mental, physical, or psychosocial status. California law states family must be informed within 24 hours of an injury.
Are Nursing Homes Liable for Falls?
Nursing homes can be held accountable when their negligence allows residents to fall and suffer injury. In fact, falls are a leading reason for nursing home lawsuits.
Can you sue a nursing home for a fall? Yes, a nursing home can be held liable for a patient's fall, even if the patient was at high risk of a fall due to their health or medications.
Common ways in which a nursing home may be liable include:
Lack of supervision. Understaffing in nursing homes or lax protocols can lead to a fall. Even with proper staffing, lack of supervision may happen if the resident's care plan does not call for increased supervision or their care plan is disregarded.
Medication errors. When medication is not administered properly, it can lead to serious side effects and increase the risk of a fall.
Inadequate staff training. Staff must be trained to understand a patient's risk, identify fall hazards, how to safely transfer patients, and how to mitigate risk factors.
Fall hazards. Nursing homes have a duty to provide a safe environment free of hazards like malfunctioning equipment, poor lighting, damaged floors, and wet floors that can cause a fall.
Failing to follow a patient's care plan or physician's recommendations. This may include specific items the resident requires, assistance with certain activities, or bed or chair alarms.
Schedule a Free Consultation with Berman & Riedel, LLP | San Diego Nursing Home Fall Lawyers
Has a loved one been injured in a nursing home fall? Suing a nursing home for negligence can help you recover financial compensation to ensure your loved one receives the care they need while holding the facility accountable.
Berman & Riedel, LLP specializes in cases involving elder abuse and nursing home negligence. We will help you take the necessary steps to protect your loved one, investigate their fall, and build a case against a negligent nursing home. Contact us today to schedule a free consultation with a nursing home fall lawyer in San Diego. We handle cases throughout California!