NAPA VALLEY, CALIFORNIA – Between February 26-28, 2009, the 360 Advocacy Institute will host a conference on traumatic brain injury and transportation accident related litigation titled Brains, Trains & Automobiles. The conference is scheduled to be held at The Meritage Resort & Spa in Napa Valley, California.
Sponsored by the 360 Advocacy Institute, the conference will both be run by and attended by nationally recognized experts in the filed of catastrophic personal injury litigation such as the nation's top personal injury attorneys and forensic experts such as accident reconstructionists, safety engineers, and medical causation experts such as neuropsychologists, nuerologists, radiologists, physical therapists, and rehab medicine physicians. The three day course is designed to provide plaintiff attorneys who with knowledge and techniques to increase efficiency and effectiveness in representing clients who suffer from traumatic brain injuries sustained in automobile or train related accident. The educational objectives of this conference will be to give plaintiff attorneys the insights and tools needed in these areas of law to help settle and win cases with better results for their clients.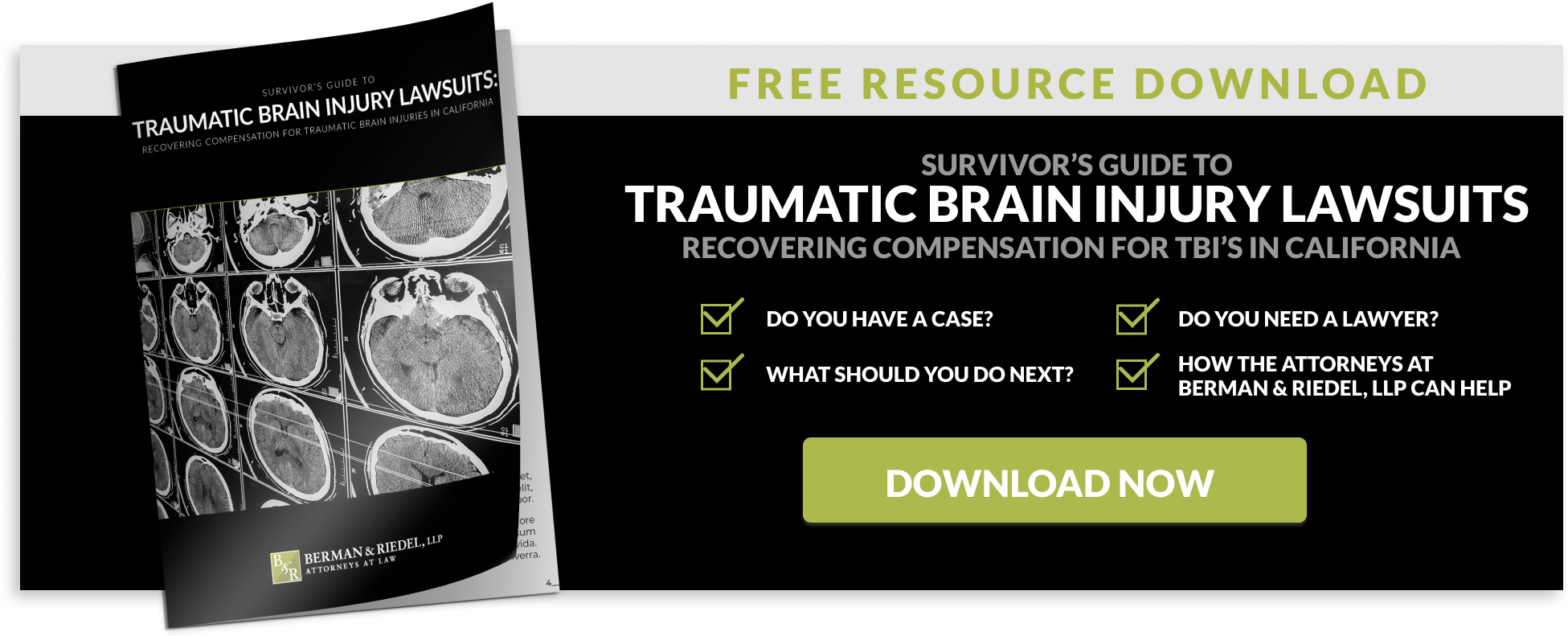 Unfortunately, traumatic brain injuries do occur in serious accident related events. An understanding of the issues surrounding traumatic brain injuries is important in the practice of personal injury law. In having a large array of clients who have suffered diagnosed traumatic brain injuries in automobile, trucking and other commercial transportation related accidents, the attorneys at Berman & Riedel, LLP, strive to stay current on new developments and information regarding traumatic brain injuries. By doing so, the attorneys at Berman & Riedel, LLP, can best represent clients who have suffered a traumatic related brain injury. If you or a loved one have suffered traumatic brain injury from an automobile or train related accident, you can contact an attorney with Berman & Riedel, LLP, by calling (858) 350-8855.
This feature was written by Harlan J. Zaback. Mr. Zaback is a Law Clerk/Clinical Student Intern with the firm Berman & Riedel, LLP, a personal injury firm that focuses its practice in handling traumatic brain injuries throughout the State of California, including matters arising from automobile and other commerical vehicle accidents. Mr. Zaback is currently in his final year at California Western School of Law and is expected to graduate and receive his J.D. in May of 2009.