When you or someone you love has been involved in an accident or has suffered an injury because of the negligence of another, the situation can be upsetting for everyone involved. When the injury is brain trauma, the effect can be devastating. Traumatic brain injury is caused by a forceful impact or violent blow to the head or body that results in brain dysfunction. Brain injuries may range from mild to severe and may be temporary or permanent. Brain injuries are often caused by car or truck accidents, motorcycle accidents, construction accidents, serious falls, and workplace injuries.
Symptoms of Brain Injury
Traumatic brain injuries affect as many as 1.7 million people in the U.S. every year. Those involved in serious accidents or falls may not immediately realize they have suffered brain injury, especially if the injury is mild. It is important to seek medical attention as soon as possible after any type of head injury, to ensure that there is no traumatic damage. Some of the common symptoms of brain injury include:
Headaches;
Dizziness;
Nausea and vomiting;
Memory loss;
Problems sleeping;
Loss of coordination;
Sensitivity to light; and
Seizures.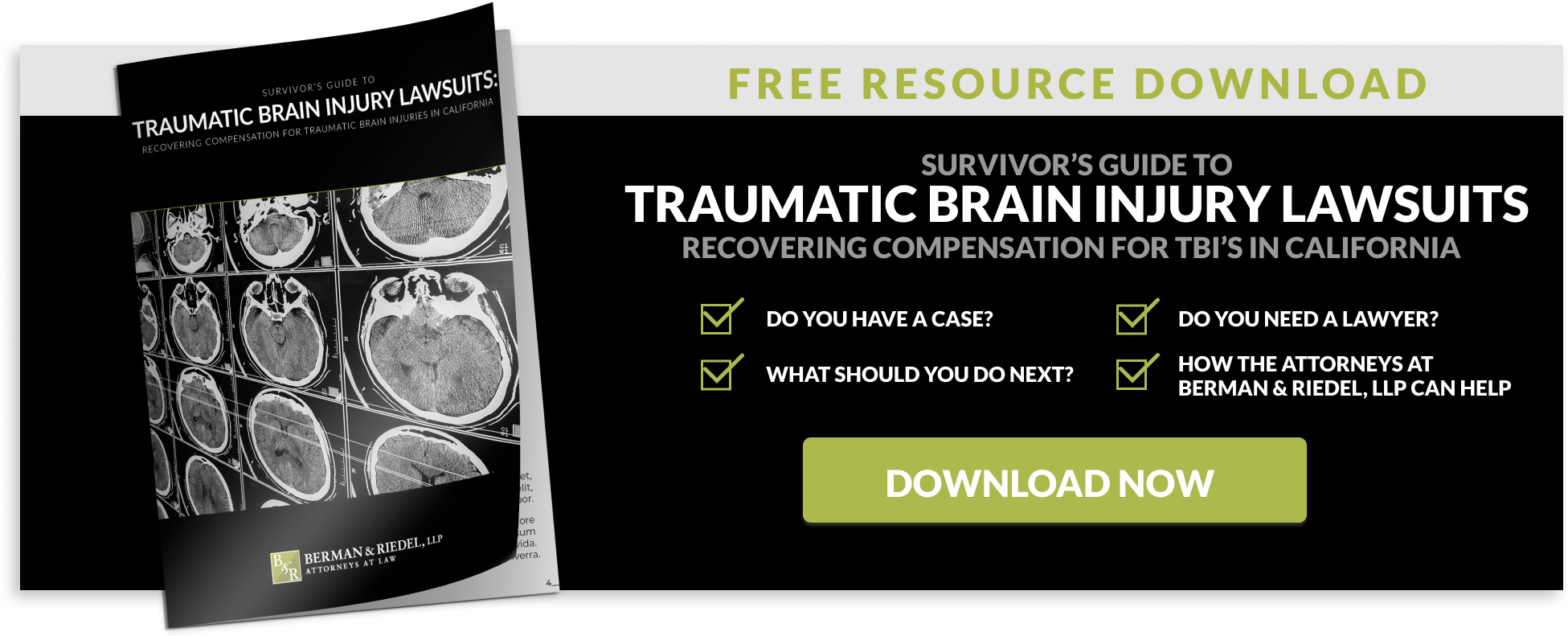 If you have had an injury and experience any of the symptoms above, you should get a medical evaluation. The more quickly brain trauma is addressed, the better the likelihood of a favorable result.
Treatment of Traumatic Brain Injuries
Traumatic brain injuries require special medical treatment. Some patients will recover rather quickly with few long-term consequences. Unfortunately, many TBI patients have more severe injuries that require long-term care and rehabilitation. Some patients will never fully recover and may need care for the rest of their lives. The long-term diagnosis of TBI patients is not always known in advance and as treatment progresses the prognosis will be reevaluated. Treatment for TBI can be expensive, especially for patients who are seriously injured. The medical costs can accumulate rapidly and may last for many years.
Traumatic Brain Injuries after an Accident
If you or a loved one suffered a serious brain injury as the consequence of the negligence of another, you have legal options. The current and future medical expenses should be recovered from the responsible party. Additionally, you may be compensated for lost wages, pain and suffering, and other expenses that are a result of the accident. Speak with an attorney before you discuss the matter with an insurance representative. A skilled TBI attorney understands this type of injury and works hard to resolve the matter through settlement or verdict.
Brain injuries are serious and can become difficult and stressful for the entire family. You should not have to worry about the payment of medical care at this time. Injuries are often caused by someone else's negligent actions. If you or a family member has been involved in a serious accident or injured because of a careless act, do not wait. Talk to an experienced attorney at Berman & Riedel, LLP. Our firm is dedicated to providing you and your family with the legal excellence necessary to achieve the best outcome.